Mr Cozzaglio has earned the honor of being named a Certified Specialist in Workers' Compensation Law by The State Bar of California
| | |
| --- | --- |
| | |
| | |
Board of Legal Specialization since 2004. Specialization requires passing written examinations on workers' compensation law and practice, additional yearly classes in workers compensation law, and a thorough State Bar conducted peer review for honesty, integrity and competency. Finally, Certified Specialists must show a minimum number of trials, petitions for reconsideration, appeals, and depositions in order to begin to qualify.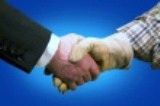 Workers' compensation law is written into the California Constitution and has been described as a handshake between employers and employees. Employers avoid the risk and expense of lawsuits filed against them for negligence and, in exchange, promise to provide prompt payment of benefits. Employees give up the right to sue in Civil Court in exchange for lesser but prompt payment of benefits.

Worker's Compensation benefits are due regardless of fault. This includes 2/3 of the injured worker's average weekly wages up to two years while one cannot work (min. and max. rates apply); weekly payments in cases where permanent disability exists; lifetime medical treatment; and a retraining voucher if necessary.

There are considerable sanctions against employers that discriminate against injured workers or a witness under LC Section 132(a). Where an employer willfully causes injury to the worker, there is a LC Section 4553 "Serious and Willful claim.". In such cases, benefits will be increased by 50%. Where the injured acted willfully, benefits may be diminished by 50% under LC Section 4552. Considerable penalties apply against insurance companies that wrongfully deny or delay the payment of benefits.

Insurance companies and employers are best served by honest lawyers that understand the worker's compensation system rather than overly aggressive lawyers that will get them audited and exposed to penalties and multiple body parts due to over litigation and needless delay in the resolution of the case.




In all matters, we practice law and believe in our clients, first and foremost. Everything else follows.